By now you have likely heard of CBD and it's multiple benefits for your skincare routine, but you still have some questions: How many different CBD products should you use? How will CBD products benefit your skin? In what order should you apply these products?
Just like any other skincare routine out there, you will see results by maintaining consistency and incorporating a daily CBD regimen. This regimen will include cleansing your body, treating your skin, and moisturizing (especially during the colder, drier months).
But before we get into this routine, you may be asking yourself why CBD? CBD has several beneficial properties due to its anti-inflammatory properties. CBD can reduce inflammation by regulated T-Cell function and bring homeostasis to your immune system through your Endocannabinoid system. It can also regulate the sebaceous glands in the skin which are responsible for the skin's production of oil. Knowing all of that, we formulated multiple CBD products that are packed with important skincare ingredients like Hyaluronic acid, vitamin C, retinol, and Chamomile Flower Extract.
Below is our very own CBD skincare routine and we also added a list of notable ingredients that are essential for healthy looking skin.
Step 1 - Wash your face
Washing your face is one of the single most important steps to achieving healthy looking skin. Cleansing daily removes dirt, oil, makeup and debris that builds up on your skin and creates issues like redness, dullness and clogged pores. Although at times it can feel like a chore, cleansing can help you steer clear from an inflammatory response in your skin. Enter our CBD Face and Body Cleanser. CBD is a remarkable anti-inflammatory with antibacterial properties, which makes it ideal for sensitive skin and skin prone to breakouts. CBD helps to calm and soothe the complexion as it clears the way for clearer skin. We also jam packed this cleanser with many beneficial ingredients to compliment your skin.
Notable Ingredients:
Kaolin Clay - Natural facial cleanser, absorbs excess oil, exfoliator, picks up dirt and bacteria
Arnica Montana Flower Extract - anti-inflammatory, antimicrobial
Willow Bark Extract - anti-inflammatory, antioxidant, has tannins (astringent, tightens pores)
Lemon Peel Oil - antimicrobial, astringent, anti-fungal, anti-bacterial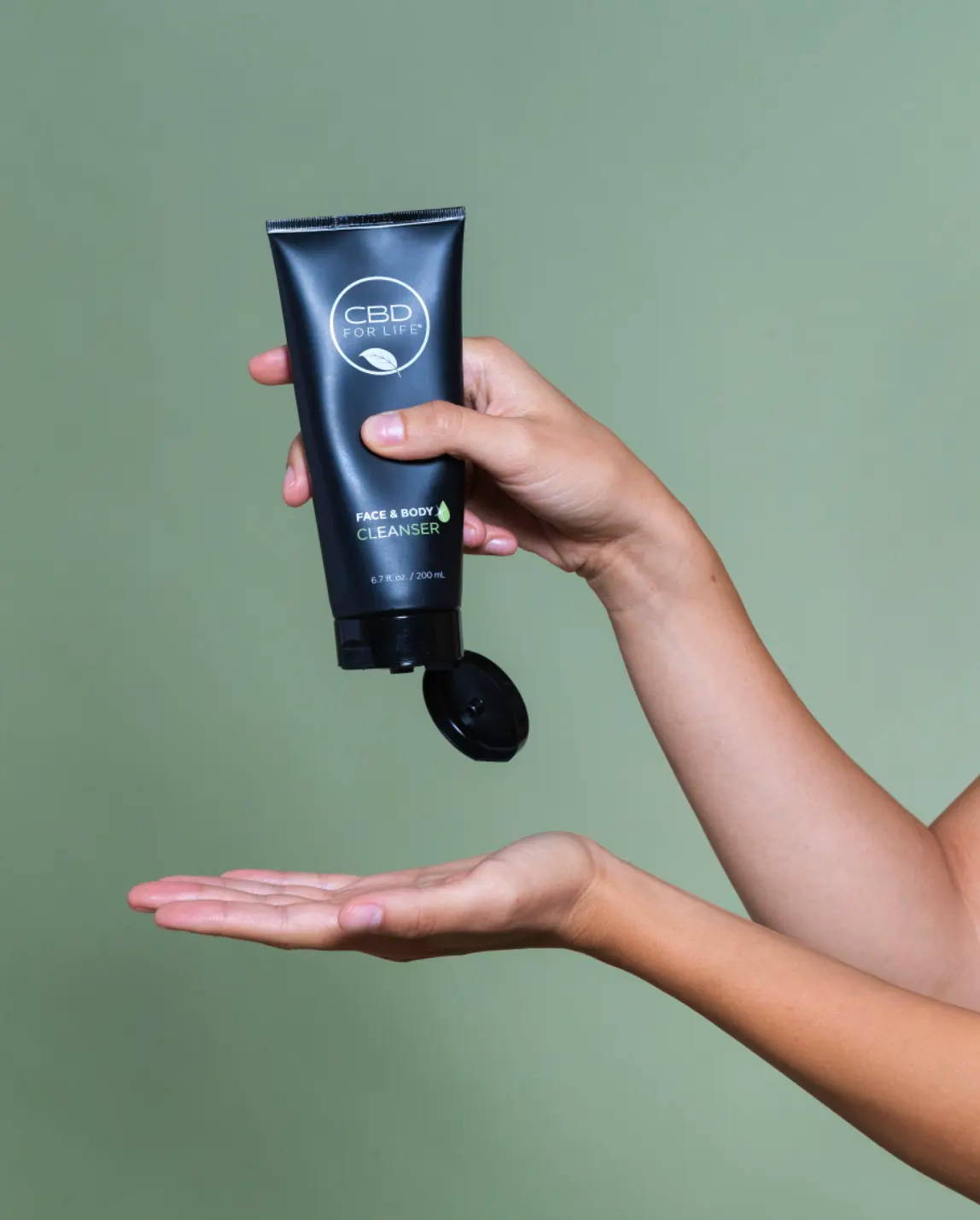 Step 2 -Treat your eye area
If you are noticing big puffy bags and fine lines around the outer edges of your eyes then listen up, because this CBD Eye Serum is the perfect solution. Using an eye serum can be one of the best ways to renew and firm the delicate skin around your eyes. Using one with CBD and potent plant extracts can make all the difference in the world due to its anti-inflammatory and antioxidants properties. The antioxidants in our CBD can help reduce the signs of aging by repairing the damage done by free radicals. As an added bonus you get the all the benefits of Hyluronic Acid in our formulation. Hyaluronic acid is a mega moisturizer that attracts and binds water to the skin for increased hydration. And when your skin is properly and fully hydrated, it appears soft and plump, which makes those little lines look a lot less obvious.
Notable ingredients:
Chamomile - anti inflammatory properties
Orange Peel Extract - contains Vitamin C which helps to form collagen and elastin which is the secret to beautiful skin.
Glycerin - is great for the skin because it acts as a humectant, which is a substance that allows the skin to retain moisture. It can increase skin hydration, relieve dryness, and refresh the skin's surface.
Camellia Sinensis Leaf Extract - It's rich in bioactive compounds, such as catechins, L-theanine, and caffeine, and studies have linked it to multiple beneficial effects.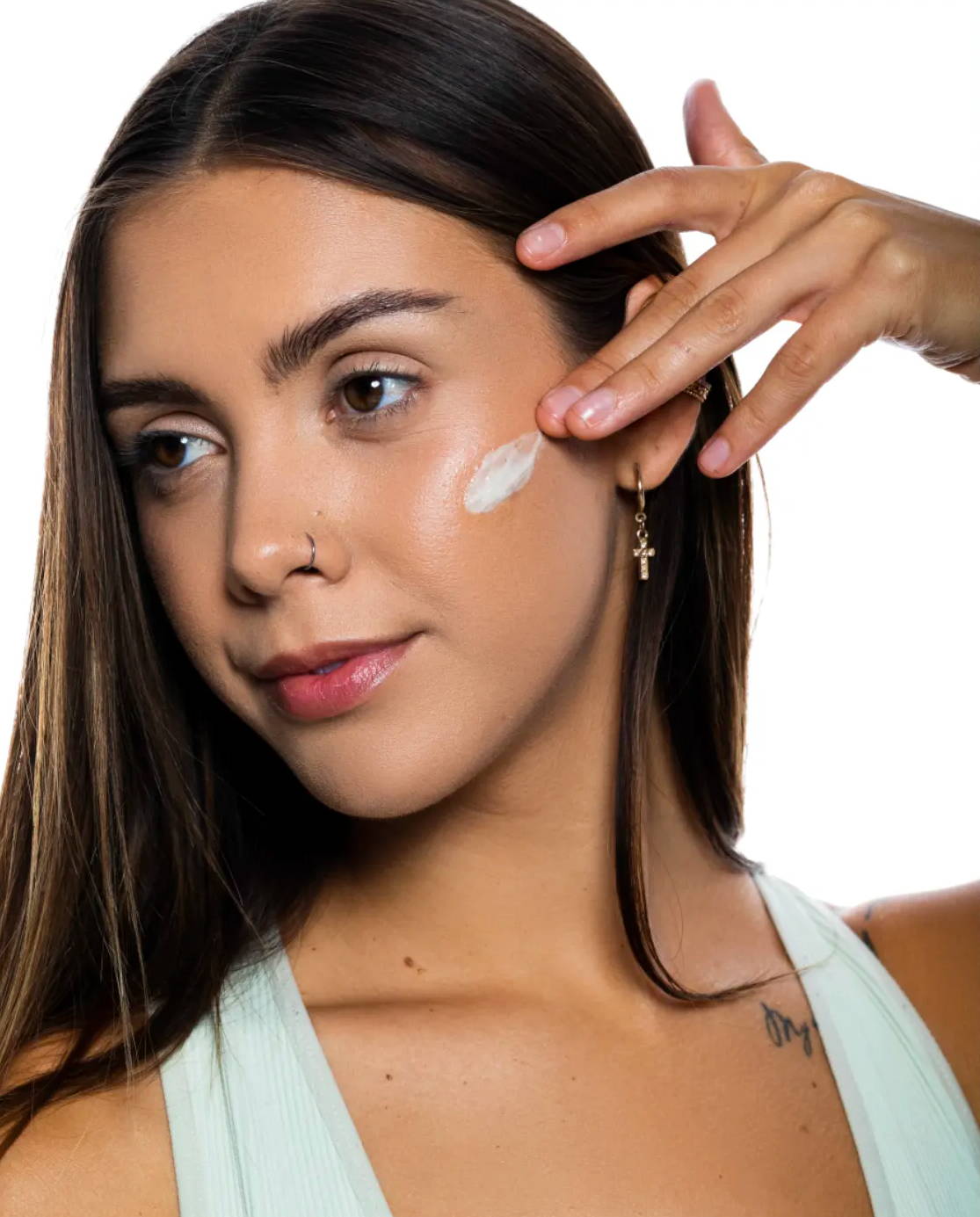 Step 3 - Moisturize, Moisturize, Moisturize!
After you have cleansed and treated your skin, the next step is arguably the most important to your skincare routine, and that is to moisturize. No matter your skin type, It's essential that you moisturize and hydrate your skin, especially if you have lost any moisture after cleansing. Hydrated skin is radiant skin. When it's dry, lines are more visible and skin looks lifeless. But when it's properly hydrated, lines look less obvious and skin glows. Applying our CBD Face Cream first thing in the morning can help speed up your quest for lit-from-within radiance. We loaded our CBD Face Cream with key ingredients that work together to deliver the results you want and need (most notably, hydration). Here, a breakdown of what makes our CBD Face Cream a fan favorite.
Notable Ingredients:
Hyaluronic Acid - a naturally occurring molecule in the human body that helps your cells retain moisture. Think of it as a moisture magnet—it attracts and binds up to 1000x its weight in water, which helps to keep your skin properly and optimally hydrated. But like any vitamin or nutrient we naturally produce, hyaluronic acid depletes with age. Reintroducing it by way of a face cream, gel or serum provides the skin with the moisture it needs to look and feel its best. When applied topically to the skin, hyaluronic acid acts like a humectant, drawing in moisture so your skin is continuously hydrated. And when skin is hydrated, it naturally glows.
Olive Fruit Oil - Hydration, cleansing, increases collagen
Aloe Leaf Juice - Hydration, antioxidant, balances pigmentation, exfoliates and cleanses
Licorice Extract - anti-inflammatory, hydration, protects against the sun
Lavender Flower Extract - stress relief, Anti-inflammatory, antiseptic, and anti-bacterial
Geranium Extract - Anti-inflammatory and anti-bacterial
Avocado Oil - Hydration, treats damaged skin, anti-inflammatory
Chamomile Flower Extract - high in α-bisabolol and apigenin to reduce inflammation, cleanse, and moisturize damaged tissue