Posted by CBD For Life on May-9-2022
Acne. Pimple. Zit. Blemish. Whatever you call it, it's a skin issue you most likely want to solve, stat. Acne is typically a skin condition experienced by teens, but can appear later in life as a result of hormonal changes and possibly even stress. But before we dive into how CBD can help control and reduce the appearance of mild acne, let's first understand how and why we get acne.
LET'S TALK BREAKOUTS 
The pores of your skin contain sebaceous glands, which naturally produce oil to help keep your skin lubricated and soft. But sometimes, especially during puberty or hormone fluctuation later in life, these glands can excrete excess oil. When this occurs, the oil can build up inside the pores and the pores become clogged or blocked. This excess sebum, as well as dirt, bacteria and dead skin cells (which normally shed on their own) become trapped inside the pore, which leads to redness and swelling of the pore area—otherwise known as acne.

Acne is considered an inflammatory condition. When the pores become clogged, they become red, irritated and inflamed. Keeping the skin clean and free of excess oil can help, as can daily exfoliation to help purge the pores of dirt, oil and debris—the breakout culprits. In most cases, facial washes containing benzoyl peroxide or salicylic acid can help control and eliminate mild acne, but they can also be extremely drying to the skin. In the case of more severe acne, medicated washes and/or medication prescribed by your dermatologist may be necessary.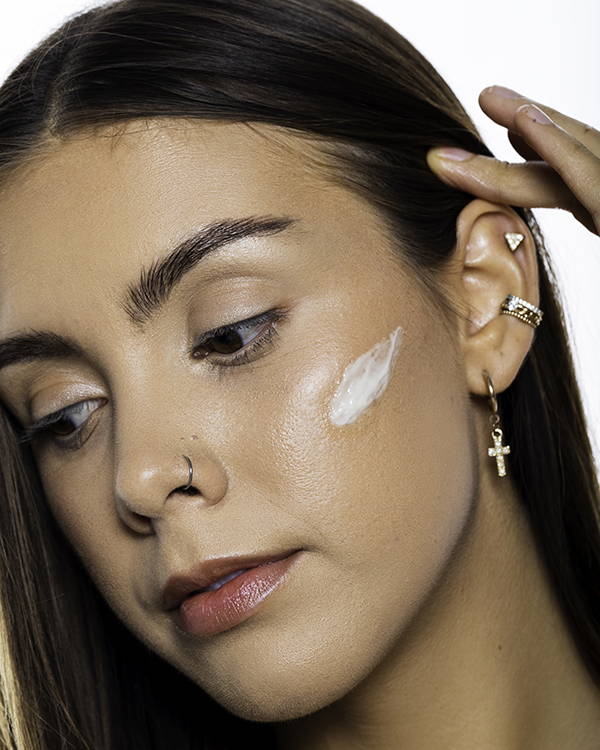 ENTER CBD
While cleansing the skin and keeping the pores free of dirt, oil and debris is key to controlling acne, CBD is an additional (and essential) ingredient to incorporate into your skincare regimen to help alleviate and control mild acne—minus any skin drying effects.
Numerous studies have shown that CBD's natural anti-inflammatory properties benefit the skin. Using a facial wash and moisturizer containing CBD, like our Face And Body Wash and Face Cream, can result in a reduction of redness and irritation associated with blemishes. Research also shows that CBD can help decrease and balance oil production, which means it helps to keep oil in check. And when the skin is not producing excess oil, there is less of a chance for breakouts. Both CBD's anti-inflammatory properties and oil-balancing benefits make CBD an essential ingredient in the battle against blemishes.  
With regular use of CBD-infused skincare, users with acne-prone skin have reported a reduction in breakouts, as well as a significant decrease in redness and irritation associated with blemishes. Combining a CBD cleanser with a CBD Face cream delivers a one-two punch against pimples. Additionally, dabbing CBD Oil to a blemish (on top of using CBD-infused skincare) is the ultimate insurance policy for clear skin.
Just like you would when dosing CBD orally, consistency is key. Committing to a CBD-infused skincare regimen, as opposed to using it once in a while, is essential to reducing and clearing breakouts.