After graduating college and starting my professional career, I had always wanted to grow a beard. But there were some limiting factors that came into play—one of them being that it was frowned upon in corporate America, and the other (a pretty big factor) was the fact that I simply had a hard time growing facial hair.
Fast forward 10 years and I'm finally in a position where I can grow my beard beyond mere stubble. When I reached my 30's, my facial hair became less patchy, more dense, and way more respectable and I've been able to sport a short boxed beard. But right now during quarantine, I, like so many guys I know, decided to let this bad boy grow.
I knew moving away from a short, well tamed beard into the unknown would require maintenance, so I decided to do some homework. What I discovered: to properly maintain a growing beard, you apparently need combs, brushes, oils, wax, shampoos, conditioners… What did I sign myself up for?
After trying out all the tips and tricks, I found a routine that works best for me. Read on for my step to step guide, which includes an essential ingredient, CBD.
FRESH AND CLEAN
Like many of you out there, I am a creature of habit. This includes my morning glass of water, my salutation to the sun, coffee, and a cold shower to wake up my body. This is where the first step of my beard maintenance comes into play. A small amount of our CBD Face and Body Cleanser is the perfect tool to give a deep, hydrating cleanse that will eliminate any built up of dirt and grime. Simply work up a lather, gently massage onto your beard for a full minute, and then rinse.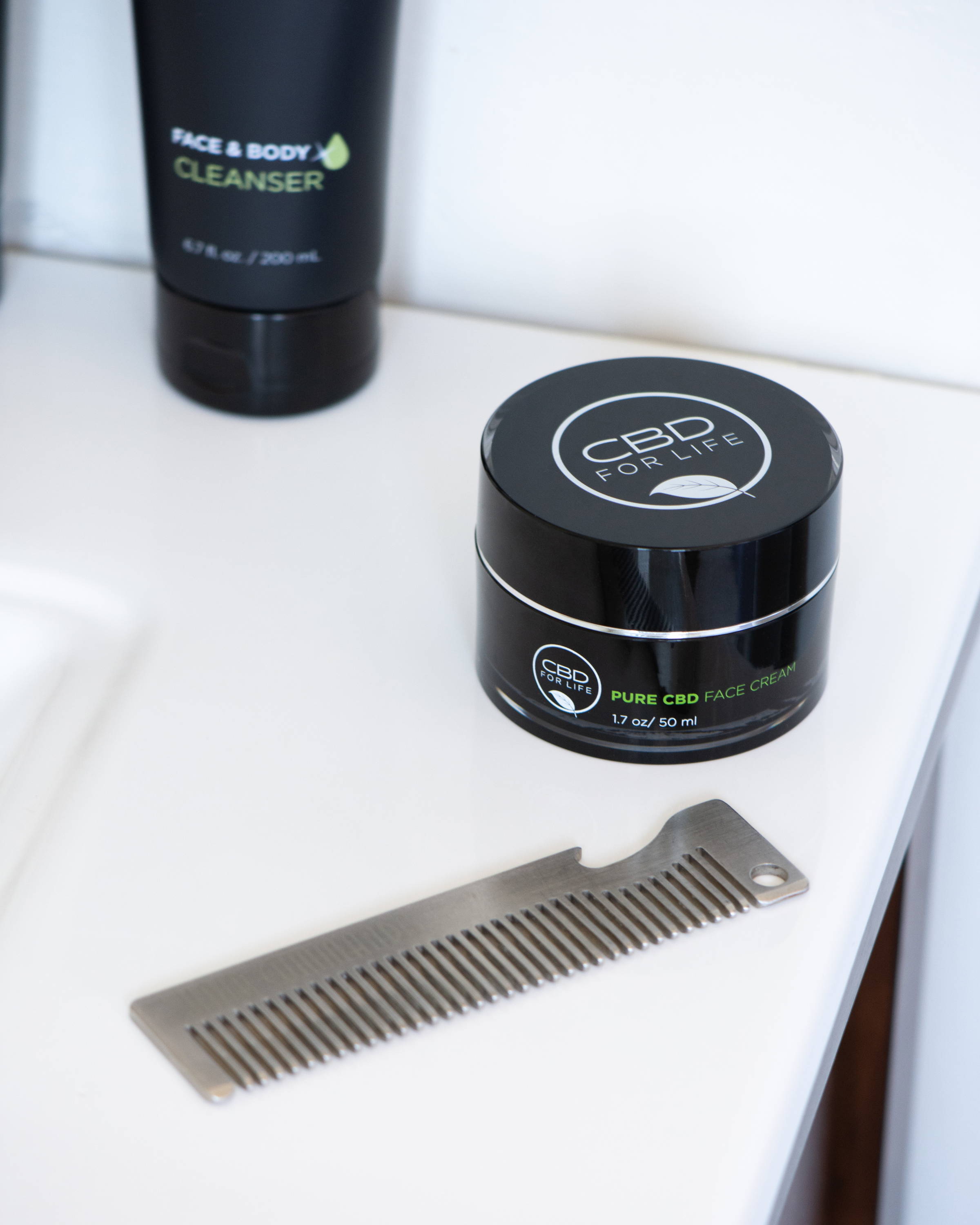 GROOM AND MOISTURIZE
Once you step out of the shower with a wet beard, it's time to groom. Your beard is at its weakest when wet, and it doesn't take much to stress your beard hair beyond its limit. I personally use a hair commando from Old Familiar Comb Company as my weapon of choice. The hair commando's wide-spaced teeth are perfect for untangling a wet beard without putting undue strain on the hair follicles underneath.
After allowing your beard to air dry for a few minutes, the first order of business is to hydrate your skin. I recommend that you use our CBD Face Cream, which is loaded with 120mg of CBD. CBD (aka Cannabidiol) has been shown to regulate balance in sebum production. Why is this important? For those of you that suffer from dry skin, CBD will increase the oil production in your glands leading to hydrated skin. Oil is key to a healthy beard. A lack of oil will lead to split ends, frayed hair, brittle whiskers, and a dull appearance.
PAMPER AND STRENGTHEN
And now the fun part. At this point your skin should be feeling refreshed and rejuvenated. You have eliminated the dirt and grime, moisturized, and made a successful first pass at grooming your beard. You'll want to incorporate a beard conditioner into your routine. A conditioner will deodorize your beard, soothe and condition your skin, promote thicker hair, tame rogue hairs, and repair split ends. I came across this leave-in beard conditioner from Reuzel and have been very impressed with the results.
Beard oil is a must for your arsenal, but can a CBD oil be just as beneficial? I'd like to think so…
Hear me out, I was originally turned onto this beard oil by Andrew James and I have been very happy with it. This oil adds a perfect shine, doubles as a tattoo oil (huge bonus), and has essential oils including olive, sunflower, argan, passion fruit and copaiba balsam. But lately I started incorporating CBD oil from our Non Flavored CBD Oil Tincture and first impressions have been promising. Although my beard is in pretty fine shape for the most part, I have been dabbing CBD oil onto the patchy spots to help with hair growth. CBD has shown promise in hair stimulation and the mix of coconut oil gives my beard a healthy and vibrant shine. Just 2-3 drops will suffice to get me through the day.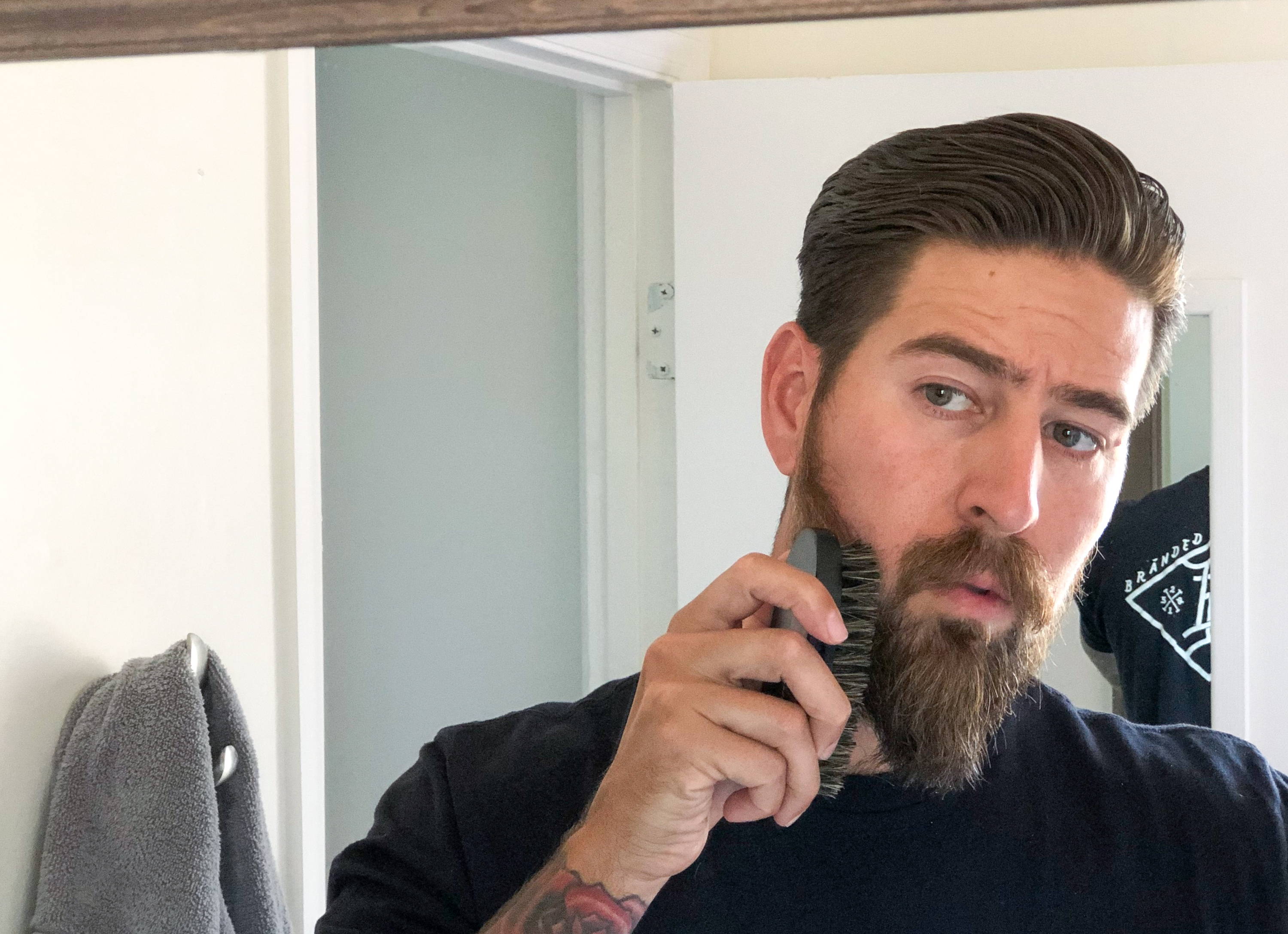 MAINTAIN YOUR MANE
Now that you have treated your beard to our version of a spa treatment, it's time to invest in a beard brush. While the hair commando comb is great for managing your wet hair, a solid beard brush is the tool to use when your beard is dry and pampered. A brush will help direct your whiskers in the direction you want while defining the shape of your beard. A bonus to using a brush is the disbursement of the oils in your beard including CBD, essential oils, and your body's natural oils. I tend to keep my brush with me throughout the day and use it frequently to keep my beard looking top notch.
MORE TIPS
Although I do shower daily, it's important to give your beard off days. What I mean by that is not every shower constitutes washing your beard. Over washing can strip your beard of essential oils leading to a dry and weak beard. Once every three days works best for me.