Posted by Jillian Stelben on Feb-21-2022
Let me start by being fully transparent. My sister works for CBD For Life, so naturally I was one of the first in line to try the products when she landed the job. I remember about a week after she started, she told me I absolutely needed to try their CBD skincare. I said "no thanks" because I loved my current regimen and I would rather try a Rub or a Roll-On Oil—I have a few aches and pains at my age.
Fast forward a year later. I agreed to give their CBD Skincare a go and have been using it for about 10 months. And I have to say, my sister was spot on: I really did need to use the CBD skincare. It has not only changed my skin, but it has also changed how my skin behaves.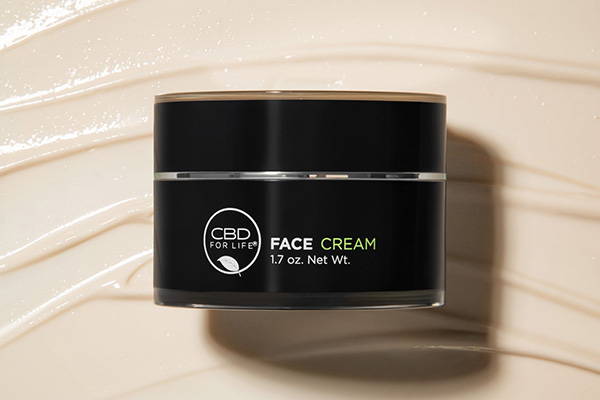 ---
MY SKIN STORY
I'm in my late 40s (pushing 50) and I continue to experience mild acne breakouts and also have quite a bit of redness that seems to rear its head more often than not. My skin is also extremely dehydrated. After months of my sister bugging me about this "amazing CBD-infused skincare," I figured I would give it a try. I started with the Face And Body Cleanser and the Face Cream. About a week or so after using the Face and Body Cleanser nightly, followed by the Face Cream, I noticed my redness was gone. And I mean gone. My skin was so soft and so hydrated, too. I couldn't believe how much better my skin looked and how much better it felt. It wasn't crepey or tight. It felt comfortable, if that even makes sense.
About four weeks into using it, I noticed I wasn't getting acne. Normally, I get a few little pimples here and there, around my mouth and on my forehead (probably from wearing hats). I was truly amazed. When I asked my sister how this was possible, she explained: CBD is an anti-inflammatory and has antibacterial properties. It also helps to create homeostasis, or balance, in the body. What does that mean for acne? CBD helps to regulate and balance the oil in your skin as it simultaneously purifies your pores. And the anti-inflammatory benefits help to reduce redness associated with acne. In other words, it helps to heal and prevent acne. But of course, you have to use it consistently to reap the results.  
Once I started to experience these incredible benefits, I asked my sister if I could try the Eye Serum. Here's the thing, I don't sleep so I have serious dark circles and bags. The Eye Serum took a little bit longer to deliver results, but wow was it worth the wait. My big puffy bags are so much less noticeable. It's almost like they deflated. And those fine lines around the outer corners of my eyes appear so much softer. My sister says the line smoothing is a result of the hyaluronic acid, which is an ingredient in both the Eye Serum and Face Cream. Hyaluronic acid is a mega moisturizer that attracts and binds water to the skin for increased hydration. And when your skin is properly and fully hydrated, it appears soft and plump, which makes those little lines look a lot less obvious.
Just a few weeks ago, I started using the Face and Body Wash in the shower (because I ran out of my usual body wash). You know those little bumps you get on the sides of the arms—they are practically gone.  
You could argue that because my sister works for the brand, I'm being kind. But trust me, this stuff works (you can read the reviews for extra proof). I am so happy with CBD for Life's CBD skincare. And to think I wasn't going to try it at all. CBD really is a magic ingredient that does so much more than ease pain. I'm committed and to be honest, I think I'm a Lifer—pun intended.