Posted by CBD For Life on May-16-2022
There's nothing more satisfying than washing your face and then slathering on a rich, creamy, hydrating face cream. The promise of a soft, radiant, moisturized glow makes smoothing on its creamy goodness all the more rewarding. But what happens when the cream doesn't deliver and your skin doesn't feel soft or appear hydrated—and there's no glow at all?
Not all face creams are created equal. It's the sum of all the ingredients that power the results. And the most important ingredients are those that pump your skin with moisture. Hydration is the closest thing to the foundation of youth. When your skin is deeply and properly hydrated, it naturally glows. Hydrated skin is soft, radiant and visibly more plump—the hallmark of healthy and youthful. Knowing what's in your face cream is key to achieving real results.
Enter our CBD For Life CBD Face Cream. When we launched our CBD Face Cream, we had had no idea it would become one of our most in-demand products. Men and women who use our CBD Face Cream swear by its ability to deeply hydrate and reward the skin with a soft, naturally radiant glow. The secret to its performance: the ingredients, of course. We loaded our CBD Face Cream with key ingredients that work together to deliver the results you want and need (most notably, hydration). Here, a breakdown of what makes our CBD Face Cream a fan favorite.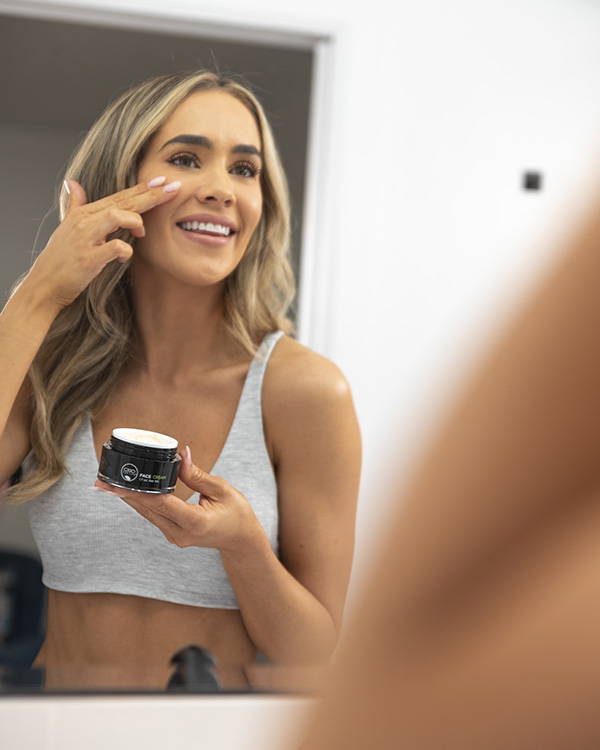 HYALURONIC ACID FOR MEGA HYDRATION
Hyaluronic acid is a naturally occurring molecule in the human body that helps your cells retain moisture. Think of it as a moisture magnet—it attracts and binds up to 1000x its weight in water, which helps to keep your skin properly and optimally hydrated. But like any vitamin or nutrient we naturally produce, hyaluronic acid depletes with age. Reintroducing it by way of a face cream, gel or serum provides the skin with the moisture it needs to look and feel its best. When applied topically to the skin, hyaluronic acid acts like a humectant, drawing in moisture so your skin is continuously hydrated. And when skin is hydrated, it naturally glows.
ALOE BARBADENSIS JUICE FOR SOOTHING HYDRATION
It's no secret that aloe vera is one of the most soothing ingredients on the planet—hello, sunburn relief. But aloe vera is also one of the most effective at helping the skin lock in moisture. Aloe is an extremely water dense plant. When used in skincare, it not only hydrates the skin, but it also helps to prevent moisture loss. As we age, the building blocks of our skin (collagen and elastin) break down, leaving "cracks" in its structure where moisture can easily escape. The sugar molecules in aloe help to bind water to the skin, which helps to rebuild and strengthen the skin's surface to prevent moisture loss.
SQUALANE FOR ADDITIONAL MOISTURE SUPPORT  
Squalene with an "e" is a fatty molecule naturally produced by our oil glands to help hydrate and maintain moisture. But like all good things we naturally create, squalene depletes with age. Enter, squalane with an "a." A plant-sourced derivative of squalene, it is readily absorbed by your skin and works the exact same way—it seals in moisture and helps prevent moisture loss. Squalane is a wonderful complement to hyaluronic acid because as the hyaluronic acid attracts and binds moisture, the squalane helps to lock it in. While squalane is an oil, it is very lightweight and won't clog the pores.
CBD FOR A CALM AND CLEAR COMPLEXION
One of more than 100 cannabinoids found in the hemp plant, CBD is a powerful anti-inflammatory that provides a host of benefits to the skin. While the hydrators in our CBD Face Cream work to keep the skin soft, plump and glowy, CBD works to solve the other skin issues, such as redness, irritation and breakouts. If you're prone to redness or irritation, CBD can have a calming effect on the skin, easing redness and soothing irritation for quick and visible improvements. If you experience mild acne or breakouts, CBD can help reduce redness associated with the blemish, as well as aid in overall oil control to prevent future breakouts. CBD also provides antioxidant benefits, which is a bonus for aging skin.