Posted by CBD For Life on Jun-1-2022
Our poor soles. They bear the brunt of our body weight every single day. They are the body's support system and shock absorber, taking on every move we make—from walking and running to climbing and jumping. The physical impact they undergo daily causes a massive amount of wear and tear, making them extremely vulnerable to pain and injury.
Foot pain is one of the most common complaints among the general population and can have a major impact on your physical capabilities and quality of life. The foot itself is one of the most complex body parts, with 26 bones that connect to approximately 33 joints, 19 muscles and 107 ligaments. General wear and tear (which includes squeezing your feet into ill-fitting shoes, like heels), as well as the shape of your foot or arch are often major factors when it comes to foot pain.
So, what can you do to help mild to moderate foot pain short of sitting still? One course of action is to use topical CBD—a proven and powerful anti-inflammatory. When applied topically, CBD permeates the skin, which activates nearby cell or cannabinoid receptors and, in turn, helps to reduce and regulate issues such as pain and inflammation. The relief you experience will only be felt in the localized, targeted area of application, which may be enough to help you go about your day—pain free.
A few foot conditions CBD can help temporarily relieve:
TENDONITIS 
Tendonitis is described as inflammation of a tendon in the foot or ankle area. The most common cause is overuse, where a tendon is overly stretched or may start to develop slight micro tears (ouch!). Orthotics, physical therapy and corticosteroid injections are some of the go-to treatments. In recent years, however, CBD has become a buzz-worthy alternative in the treatment of tendonitis. Because CBD is a powerful anti-inflammatory, applying a topical CBD product, like our CBD Foot Cream, directly to the affected area may help reduce inflammation and, in turn, relieve pain. CBD, along with activity modification, may just help you get back to being active.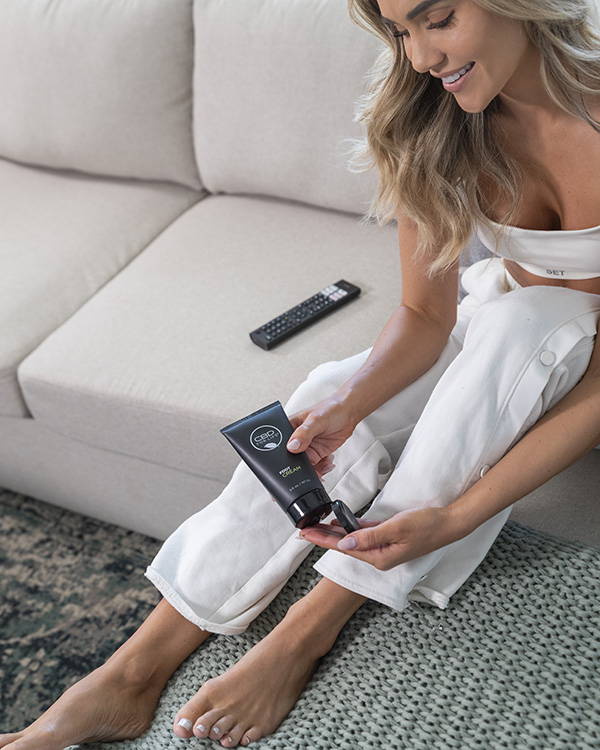 ARTHRITIS
Arthritis is a painful condition that directly affects your joints. There are over 100 different types of arthritis and symptoms can include Joint Pain, Stiffness and swelling, all of which directly affect your Range Of Motion. According to Web MD, one out of five adults have some form of arthritis. And one of the most common areas where arthritis strikes is the feet. In some cases, arthritis in the feet can reduce your ability to walk. Enter CBD. While CBD is not a cure for arthritis, topical CBD can help relieve the pain, discomfort and stiffness associated with the condition, allowing you to go about your day more comfortably. Applying CBD consistently is essential to help reduce the inflammation causing your discomfort. Additionally, taking CBD Oil in combination with applying a topical CBD product can further enhance and improve your results.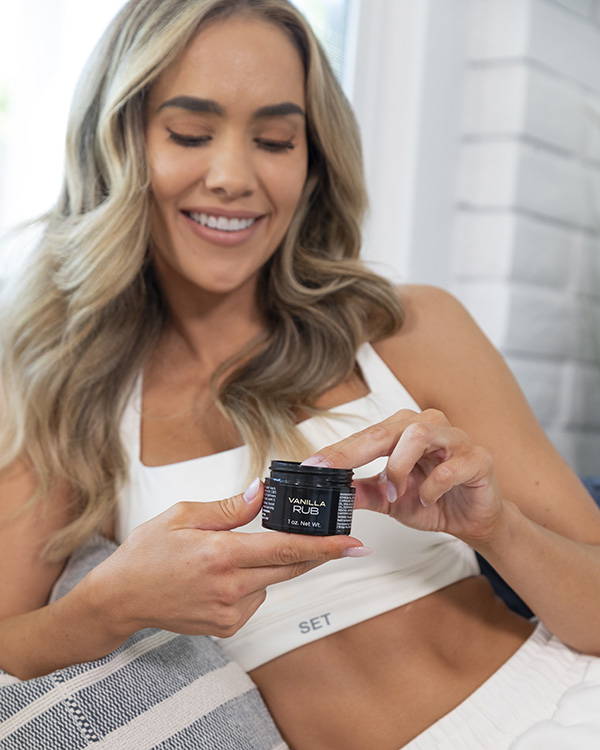 PLANTAR FASCIITIS
A condition characterized by intense pain at the bottom of the foot just below the heel, plantar fasciitis is often caused by overuse of the plantar fascia, a band of tendon-like tissue that extends along the bottom of the foot from the heel to the ball of your foot. It's common among runners and athletes who consistently perform high impact activities. It can also affect anyone who spends a significant part of their day standing. Interventions often include icing, stretching, night splints and even orthotics, though CBD is becoming an additional treatment option many people with this condition are starting to rely on. A CBD Rub or CBD Roll-On Oil  applied directly to the area of discomfort (the heel and along the plantar fascia) may help to reduce pain caused by inflammation. Applying it at night yields the best results as most people with this condition experience the most intense pain upon waking.