Posted by Melissa Schweiger Kleinman on Oct-4-2019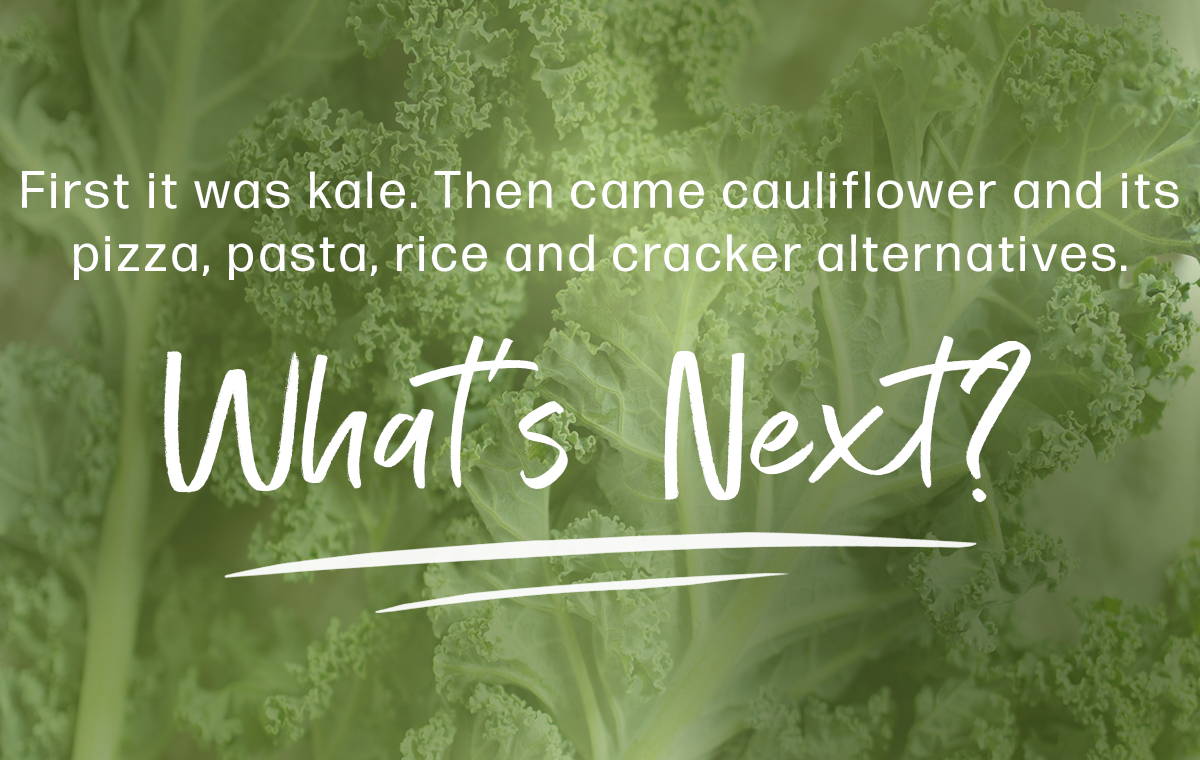 "I'm not sure anything is poised to enjoy as much time in the sun as cauliflower, but there are quite a few unconventional foods that will definitely try to steal the spotlight," says Alison Kucich, certified functional nutrition specialist and health supportive chef, founder of Eighty Nutrition. Read on for the next crop of superfoods to try.

The jackfruit is literally a jack of all trades in the produce category. "It's an extremely versatile food and is becoming popular in both plant-based and vegetarian cuisine," says Kucich. "If you've never seen them, jackfruits are gigantic green exotic fruits with a bumpy exterior, usually about the size of a medium watermelon. Some can weigh up to 100 pounds!"
The inside of a jackfruit contains pale yellow pods, which are edible, as are the seeds. Unlike the fan-favorite avocado, jackfruits can be used both ripe and unripe. "When ripe, they taste fruity, like a cross between a mango, pineapple and a banana," explains Kucich. "When unripe, they taste more neutral, like a white potato."
---
HEALTH BENEFITS OF JACKFRUIT
Jackfruits are very nutritionally dense and contain a variety of vitamins, like A, B and C and are also rich in minerals and antioxidants.
It's also hard to overlook the sustainability factor of jackfruits. "The jackfruit tree is very hearty, resistant to high temperatures and drought, and easy to grow," says Kucich. "One tree alone can produce up to three tons of food. Because they are both prevalent and nutritious, jackfruits have the capacity to solve the food supply problem for much of the tropical and developing world."
---
HOW TO EAT A JACKFRUIT
From jackfruit hummus to JLTs, this healthy meat alternative can be used in a plethora of different recipes. "Jackfruits can be cooked into many different dishes—both sweet and savory—and can soak up marinades, herbs, and spices, similar to other plant-based meat substitutes," says Kucich. Jackfruit can easily be made into plant-based versions of shredded chicken, pulled pork, and chili. The texture also works well in curries and soups. The seeds can be boiled or roasted and eaten as snacks and taste a bit like macadamia nuts.
You can find jackfruits as a whole fruit, sliced, frozen and canned at grocery stores. Also look for jackfruit chips and noodles and a few other food items on the market.

Pili nuts (pronounced pee-lee) are native to southeast Asia and are often referred to as a "super nut" because of their stellar nutritional profile. "Although still quite new here, pili nuts are as common a snack in the Philippines as peanuts are in the USA," says Kucich. "The nuts can be eaten raw or roasted, and taste like an almond combined with a macadamia nut."
---
HEALTH BENEFITS OF PILI NUTS
Pili trees grow in volcanic ash, which leads these nuts to have a much higher mineral content than other nuts. They are also an excellent source of omega-3 fatty acids and fiber. Additionally, they are high in antioxidants and vitamin E.
---
HOW TO EAT PILI NUTS
In the US, pili nuts are popping up as roasted nuts, nut butters, nut flour, and as an ingredient in non-dairy yogurts. Pili nuts are used in various ketogenic snacks and recipes, too. You can order them on Amazon or find them in health food stores.

While CBD is not a food per se, Kucich sees a bright future for this wellness supplement.
"I think CBD will continue its rise as a popular supplement and we will start seeing it more in mainstream food menus and in packaged products, as manufacturing laws allow," says Kucich. "People have come to rely on CBD oil for various forms of wellness so it's only natural that we try to add it to various food products to make it recreational and also confer additional benefits."
---
HOW TO ADD CBD TO YOUR DIET
The natural flavor of CBD can be strong and nutty, but Kucich thinks that works well in a variety of foods, including smoothies, cocktails, mocktails and coffee drinks. "I have baked with it for about a year now and start by infusing CBD into fats like butter and coconut oil," she says. "I've made a great CBD oatmeal chocolate chip cookie. But a word of caution: CBD is volatile, so heating over 340-F destroys the terpenes."