Posted by CBD For Life on Mar-14-2022
The CBD confusion is real. Sure, everyone's heard of it, but not everyone fully understands it (there's a ton of mixed information out there). Here, we answer your most frequently asked questions so you can make a more informed choice about your own wellness and self-care.
WHAT IS CBD?
Cannabidiol (CBD for short) is a is one of more than 100 naturally occurring Phytocannabinoids found in the Cannabis plant. The cannabis plant is made up of two main players: CBD and THC.
CBD is the non-psychoactive portion of the plant. CBD provides an abundance of health-enhancing benefits without the high. CBD does not contain THC which is responsible for the stoned/high feeling that the recreational drug provides.
WHAT IS THE DIFFERENCE BETWEEN CBD ISOLATE AND FULL-SPECTRUM?
We use CBD Isolate, containing only pure CBD, it is the crystalline powder form of CBD. In this form, all other plant matter—oils, waxes, flavonoids and additional cannabinoids, like THC—are removed. Full-Spectrum contains the full range of cannabinoids and other matter found in the plant and may contain small traces of THC.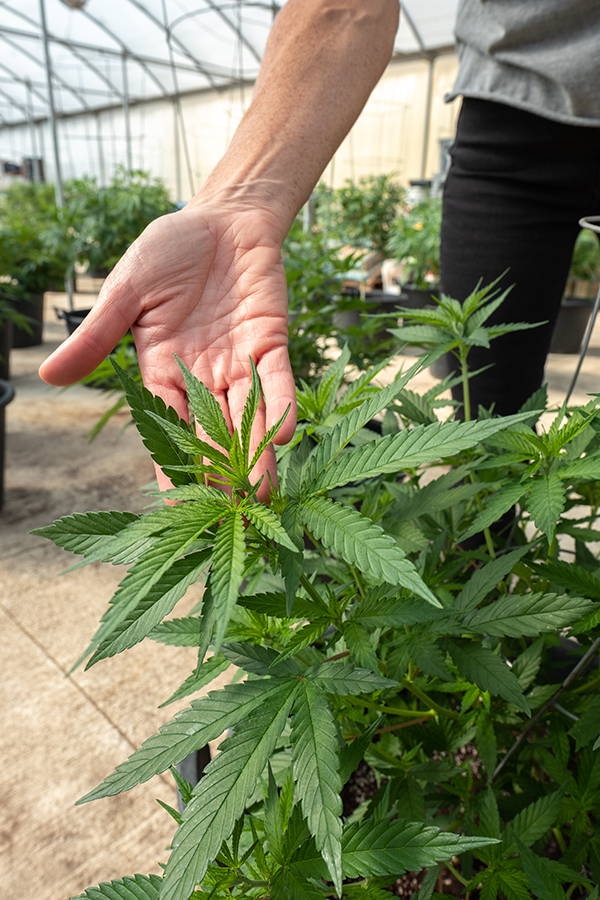 ---
WHAT ABOUT QUALITY OF THE CBD?
The quality of your CBD is absolutely critical. The performance of our products relies heavily on the purity and potency of our CBD. We perform extensive Testing, at all stages of production, on our raw materials, batches and final product. Our independent ISO/IEC accredited third-party lab tests for potency, microbials, heavy metals and pesticides (on plants and concentrated oils) to ensure the highest quality so you reap the greatest results.
TESTING IS SO IMPORTANT
Since the FDA doesn't regulate CBD, it is possible to buy a product that is more or less potent than advertised. We work with an ISO/IEC accredited third-party lab to test for quality assurance, potency, microbials, heavy metals and pesticides.
WHAT DOES CBD DO FOR THE BODY?
Our bodies naturally produce endocannabinoids that interact with our Endocannabinoid System (a complex cell signaling system that regulates everything from mood and appetite to sleep and stress). The Endocannabinoid System's (ECS) main purpose is to help keep your body balanced, and maintain homeostasis. Like any nutrient in your body, you can experience an endocannabinoid deficiency. And the more deficient you are, the more unbalanced your body becomes. Since CBD is a naturally occurring cannabinoid, it plays nice with your ECS and works synergistically to help bring your body back into balance. And when your body is balanced, you see and feel the results.
WHAT CBD PRODUCT SHOULD I START WITH—AN OIL OR A RUB?
We suggest that you incorporate CBD into your Daily Routine as consistency with CBD is key. For help with stress and anxiety, use our CBD Oil. So simple to use—just drop it under the tongue, hold for 60 seconds and swallow (we suggest you start slow and work your way up to a full dropper). You can even add it to your morning coffee or favorite smoothie. oral CBD (in liquid form) is your best bet. If you want to start with a topical CBD product, we suggest using our CBD Topical Spray, Rubs And Roll-Ons. Each are incredibly powerful when it comes to pinpointed relief to the exact location you apply.
WHAT RESULTS CAN I EXPECT?
If you dose CBD orally (sublingually under your tongue), it can take up to two weeks to notice the effects. When dosing orally, consistency is important. You might begin to notice little changes, like an enhanced mood or a more positive outlook within a week or two of starting your new routine. When using CBD topically, you may feel the effects and benefits quicker.
CBD's anti-inflammatory and pain-relieving properties are absorbed in the skin as it does not enter the bloodstream but rather connects with nearby cannabinoid receptors through the skin pores.
*If you're pregnant, nursing, suffering from a serious medical condition or currently taking pharmaceuticals, consult with your doctor before taking CBD or any supplement.