Posted by Greg Dwyer on May-25-2022
You spent the day cleaning your yard. You hit the gym consistently this week with Grueling Workouts. You played a round of golf and have a sunburn to match. And now today, you're experiencing a new level of discomfort. Major pain in the back, arms, neck, and legs, so you reach for the CBD.
A wise choice, as topical CBD has been shown to significantly reduce localized pain and discomfort. CBD For Life provides a variety of topical applications that you can use to help promote a healthier well-being and tackle those nagging aches & pains. One of those products is our CBD Topical Spray, and in this blog we breakdown the 3 reasons why you need this product in your arsenal (especially for the summer season).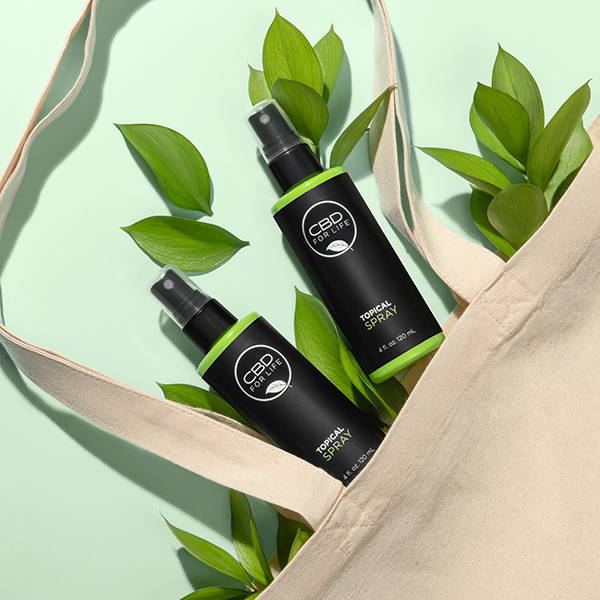 CBD FOR PAIN RELIEF
Pain relief and anti-inflammation is one of the leading reasons why people try CBD and your hard work has put you in the top spot for needing treatment. Our Topical Spray targets inflammation and pain transmitters with CBD, to dramatically quicken the healing process. In addition to CBD, it contains Lidocaine. Lidocaine is an anesthetic that causes a loss of feeling in the skin and surrounding tissues and is used to prevent and to treat pain.
Arnica Mountain Flower Extract is another ingredient in our spray that when applied topically is known to heal sore muscle aches. This comes from its strong anti-inflammatory benefits which, in turn, can reduce swelling and provide pain relief by improving blood circulation. Which makes our Topical Spray the perfect pre and post work-out weapon and after yard-work routine.
CBD FOR SUNBURNS
Skincare and repair is another attribute of our Topical Spray. Damaged skin from the hot summer sun, oily or dry skin, and other skin conditions can be treated with this product. This is because CBD regulates the sebaceous glands in the skin which regulate the skins oil production. With this regulator at work, the Vitamin E, Eucalyptus Oil, Menthol, and Aloe Vera all help to repair the skin for a smooth recovery and a defense against the sun.  
CBD FOR INSECT BITES
The final step in your treatment is soothing those potential bug bites acquired while being outside. To do this, we incorporated Witch Hazel into our Topical Spray to help with itching, pain and swelling (inflammation) for minor skin injuries and irritations such as bug bites, and minor burns. On its own, Witch Hazel is an astringent which can help open up the pores of our skin to help with a deeper cleanse to sanitize the area of the bite.
All in one, this product provides a multitude of benefits for workouts and time spent outside. It contains a variety of ingredients to soothe, repair, and treat; pain, sunburns, and insect bites. This makes our CBD Topical Spray the perfect tool help defend your skin against the hot summer sun and treat sore muscles.